Recommended System Settings
The following system specifications are recommended when viewing this site. Please use one of the following browsers when viewing this site.
* Certain portions of this site may not display or function properly if your system specifications do not match these recommendations.
Operating System
Microsoft Windows® 8.1 / 10
MacOS X 10.10 or later
PlayStation®4 System Software (*)
iOS 10.0 or later
Android 5.0 or later
* Please use the most up-to-date software version.
Browser
Microsoft Edge
Google Chrome (*)
Mozilla Firefox (*)
Safari for Mac OS 10.0 or later
PlayStation®4 Internet Browser
iOS: Safari
Android: Chrome (*2)
* Please use the most up-to-date software version.
*2 Please be advised that, depending on your operating system version or system configuration, the Lodestone may be inaccessible.
Browser Settings
JavaScript, Cookies, CSS required
Display Resolution
1024x768 or higher (Desktop)
640x1136 or higher (Mobile)
* Please note that this website has not been optimized for tablet resolutions.
Display Languages
Region settings for this website are based on your Square Enix account settings. To change region settings, you must first log out, then access the menu found at the top right of the page, or the top left on mobile devices.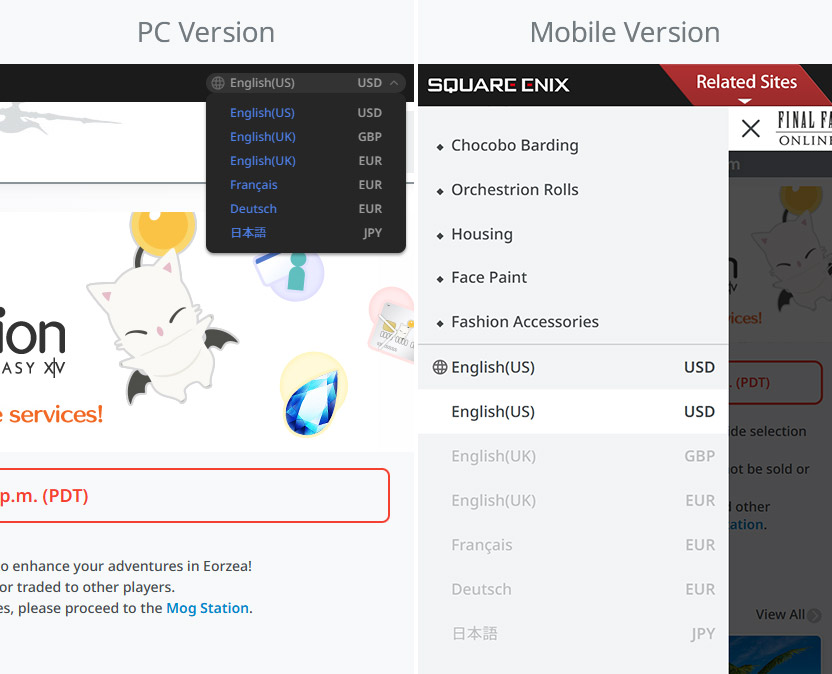 About Optional Items
Item Delivery
Purchased items will be delivered in-game via the moogle delivery service.
If you find your items have not been delivered, please try the following:
Please delete any unwanted letters from your mailbox. Your mailbox can only store a maximum of twenty letters with gift, bonus, or optional items enclosed (indicated by the

icon).
For items purchased for a single character, select the Reward/Purchase Delivery Request button.
For account-wide items, log out of the game and log in again with your desired character, then wait for the item to be delivered.
Please note there may be a delay in the delivery of high-demand items, such as those recently released on the online store, due to congestion of the delivery system.
Redelivery
Within 10 days of purchase: Up to one hour may be required for redelivery.
More than 10 days since purchase: Up to 24 hours may be required for redelivery.
About Purchase History
Purchase history can be reviewed from the Your Account page after logging in.
Support